Behringer iNuke BOOM Junior Preview
Behringer is one of those audio equipment companies that have a long history in the business.  Their line of products, which includes anything from mixers, to speakers, to karaoke machines is almost omnipresent at any local or online retailer.  As far as a consumers' opinion of them; that has also had a long history in itself.  Behringer has always been the low cost alternative to many of the big name manufacturers such as Pioneer, and this has lent itself to be given a bad name at times.
In later times, we've seen the quality and production of Behringer gear get better.  The consumers have spoken and Behringer has shifted its attitude as well.  The DJX900USB has its place for those who aren't willing to shell out for Pioneer's DJM-850, and it performs as expected.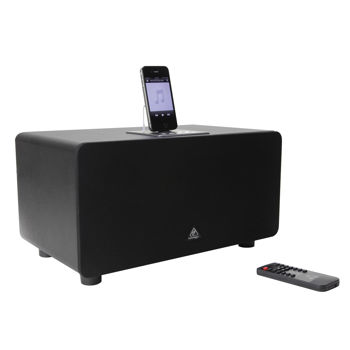 Recently, Behringer has made a step into the consumer electronics market with the production of their iNuke BOOM Junior.  As a once piece audio system, It has all the refinements and dimensions of a similar Bose Audio product, and it was built to allow your iPod or iPhone to attach directly to it.  With its semi small size, it boasts 50 watts of power and is supposed to give you the equivalent sound of a much larger setup.  At $180 it's also priced to sell.
http://www.audioholics.com/reviews/speakers/lifestyle-desktop-and-portable/behringer-inuke-boom-junior-pre