iHome iDL100 Clock Radio
If you actually spend time producing music or recording music on your tablet device, mainly the iPad, shouldn't there be an easier way to transmit and receive audio from it?  I know this sound like I'm a lazy person, but it would be nice to hear the audio (and decent audio at that) directly from the iPad without having to plug wires into a headphone to RCA jack.  Wireless audio is a good remedy to this, but it comes with its own problems as well, like the iPad's battery running out and needing to charge it simultaneously.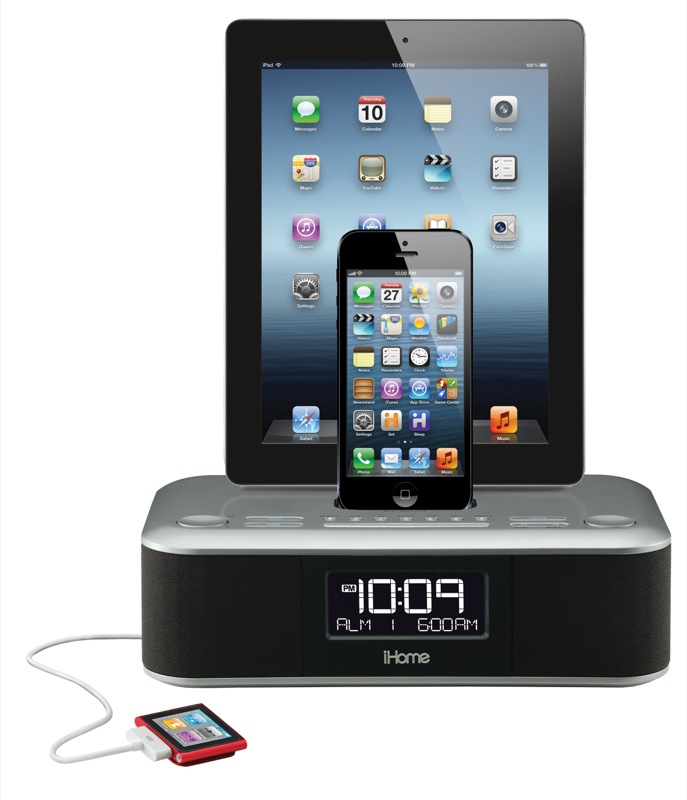 Radio and clock combos that also offer a charging station are nothing new for apple devices.  Ever since the first iPod was released, peripherals have been created to satisfy the demand for a docking solution.  Some of them have been poorly executed and have had problems like subpar speaker, or poor communication between the two devices.  Others like the iHome iDL100 Clock Radio has literally been iterated to perfection.  One neat feature of this dock is its backwards compatibility or legacy features – meaning it will accommodate older devices as well as new ones.  I will say that it looks a bit odd having an huge tablet docked on such a small clock radio, but it seems to work.
http://www.audioholics.com/reviews/speakers/lifestyle-desktop-and-portable/ihome-idl100-clock-radio-lightning-docks