IMAX Private Theater for your Home
On the wealthy can really afford to have their own private movie theaters in their house, along with their private escalators and elevators; might as well add a pure gold toilet while you're at it.  But really, for some of us the closest we will get is a good set of speakers, and receiver, and a nice high definition television.  Perhaps this is why we will still pay the steep price to watch a movie in the theaters the night it comes out.  You get the experience of an amazing audio system with a screen that spans the area of the house you currently live in.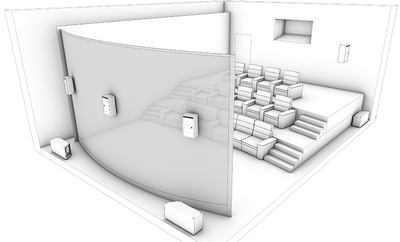 If you thought it couldn't get any better than that, IMAX is step up from the average movie watching experience, and now you can even get it in the comfort of your own home, that is, if you can pay the price.  The elite are now installing IMAX systems to go along with their private movie theater experience – and it goes beyond adding surround sound and padded seats.  The system itself is maintained and installed by the professionals, and it will likely cost you the price of an economy car, which most of us would never pay.
http://www.audioholics.com/news/industry-news/imax-private-theater